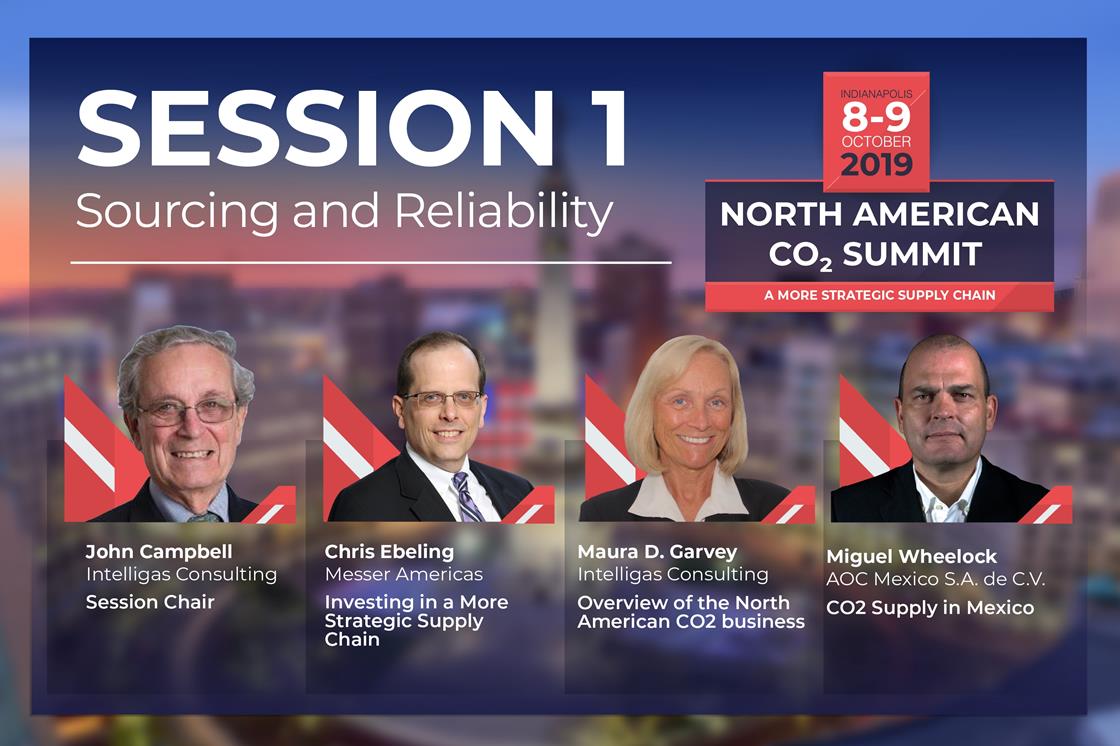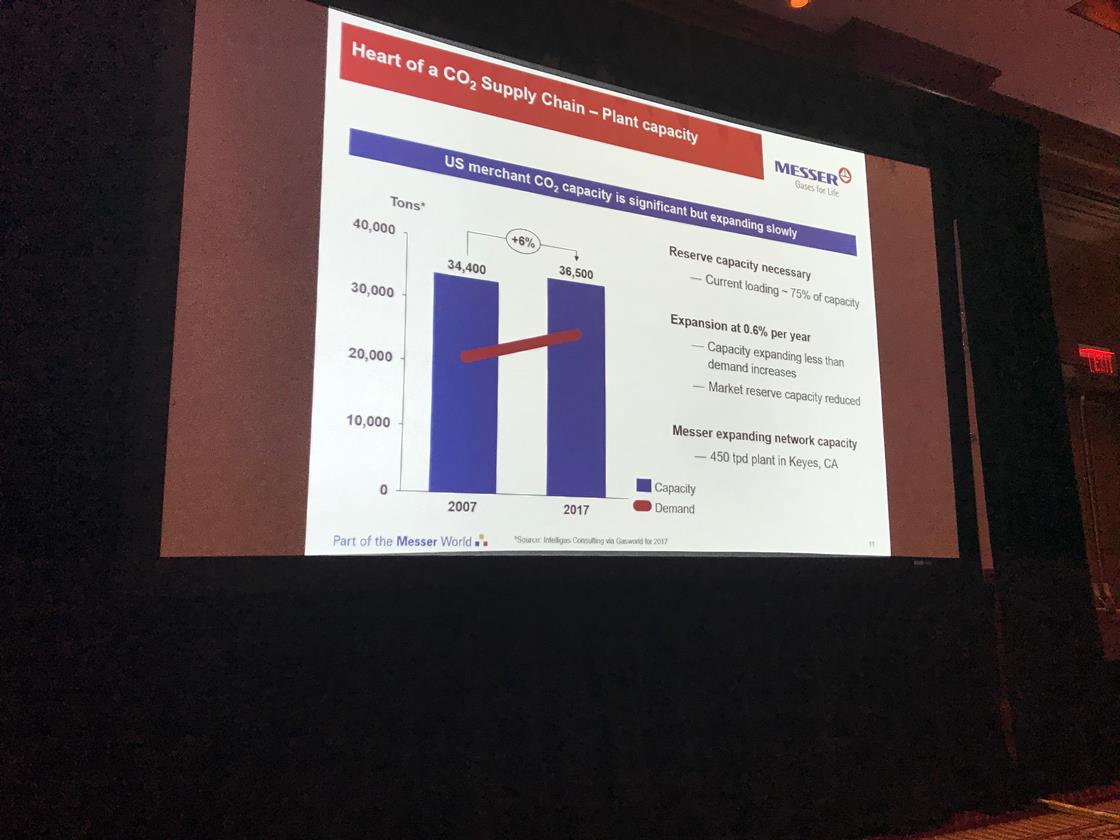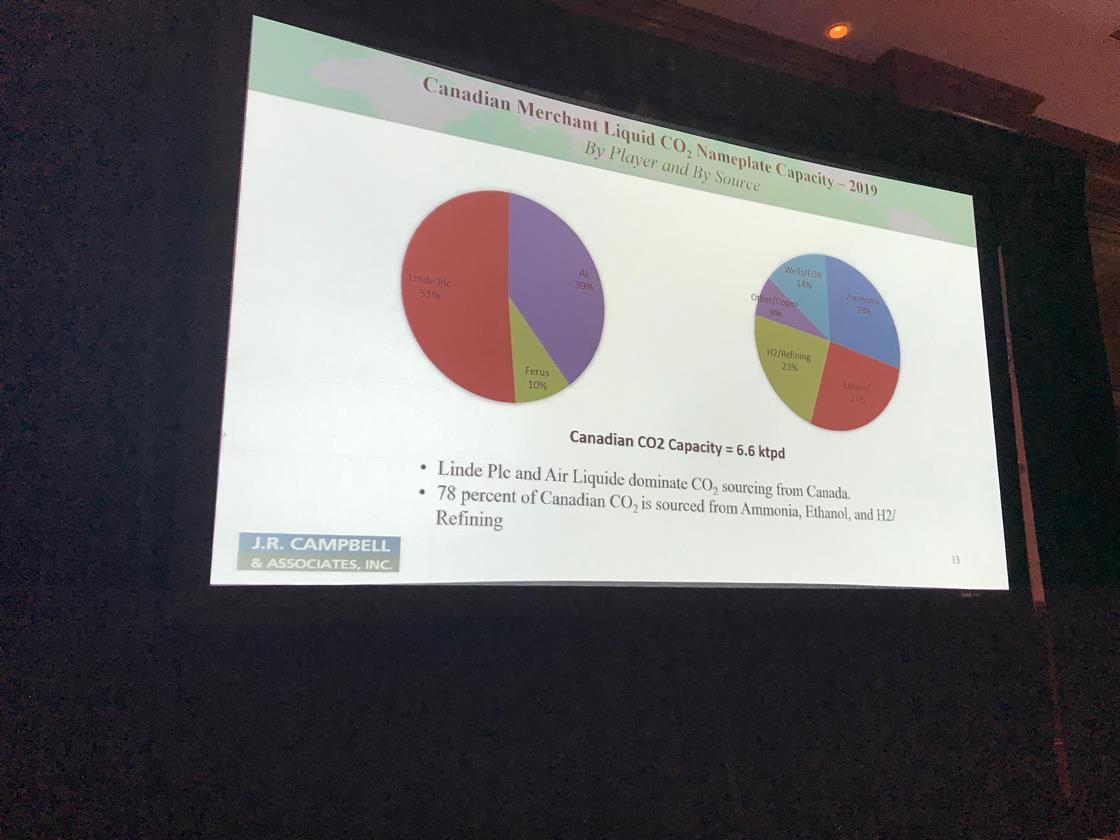 A sell-out event of 160 delegates from 14 different countries heard presentations covering carbon dioxide CO2 sourcing and reliability, and future sourcing and supply before lunch at the Conrad Hotel.
After introductions from gasworld Publishing Director Martyn Hammond, Indiana Oxygen owner Wally Brant delivered an opening keynote presentation stressing the importance of the CO2 supply chain as well as outlining the history of his 104-year-old business.
Chris Ebeling, Executive Vice President of Sales & Marketing, US Bulk at Messer, focused on investing in a more strategic supply chain. Ebeling covered customer expectations, demand drivers, economic influences, sourcing considerations and Messer's approach.
"The demand for CO2 is increasing," Ebeling said.
"Customers think CO2 is like electricity, and they are not thinking about what happens if the perfect storm happens. We remember 2015 – it was very painful when a number of plants went down at the same time."
"The biggest shift in the market is the fresh-not-frozen mentality. We see increasing demand for home delivery groceries and CO2 is consumed with that. We see increasing demand for dry ice blasting, stunning, blending, freezing and chilling. The food industry itself is changing, people's tastes change quicker and it's creating a need for a flexibility of operation."
Messer is expanding its network capacity with a 400 tpd CO2 plant set to go into Keyes, California.
"I stress the importance with the client, onsite storage – does the volume match your evaluation? – and coordination, we make sure we let people know about the issues when they arise and prepare them for things they can do," Ebeling said.
Ebeling's point that capacity demand is not increasing to keep up with demand was echoed by Maura Garvey, of Intelligas Consulting and a member of the gasworld Editorial Board.
In her overview of the North American CO2 market, Garvey explained the North American market share and demand for CO2, with food attributing for 70% of the demand and USCO2 demand at 10.2 million tonnes per year (mtpy). In Canada, 78% of CO2 is sourced from ammonia, ethanol and hydrogen/refinery.
"The major industrial gas companies own 87% of the US CO2 nameplate capacity. Messer has come out as a very strong number three after the divesting of Linde's assets. Linde plc still retains number one spot."
"The sourcing has grown by almost 1%, and sourcing is seeing a shift towards ethanol and away from hydrogen/refinery. Supply is not keeping up with demand. CO2 demand is estimated to grow at 2.5% per year to 11.6mtpy. We have to support demand growth, we have to plan for four 400 tpd plants to support growth by 2024."
The Summit was taken south of the border by Miguel Wheelock, owner of AOC Mexico, who educated attendees on CO2 supply in Mexico. Wheelock touched on the CO2 shortage to hit Mexico in 2018, and explained the status of the capacity there: 960 tpd Praxair/Linde; 430 tpd CO2 Liquid, 600 tpd Cryoinfra/Air Products, for a total capacity of 1915 tpd.
In Mexico, market growth is at 5% CAGR for the last five years and demand is 1100 tpd.
"If we have a problem with natural gas, we have a headache in Mexico," Wheelock said.
"We don't have the capacity to bring more natural gas to Mexico."
A recap of the second session will follow shortly.
Follow the summit
Stay up-to-date with all the latest news, views and developments at the North American CO2 Summit 2019 via the gasworld website, updated throughout the event.
gasworld will also be tweeting live updates during the conference, which you can follow on Twitter using the hashtag #GWIndy19
A full review of the conference will be published in the forthcoming editions of both gasworld and gasworld (US) magazine.