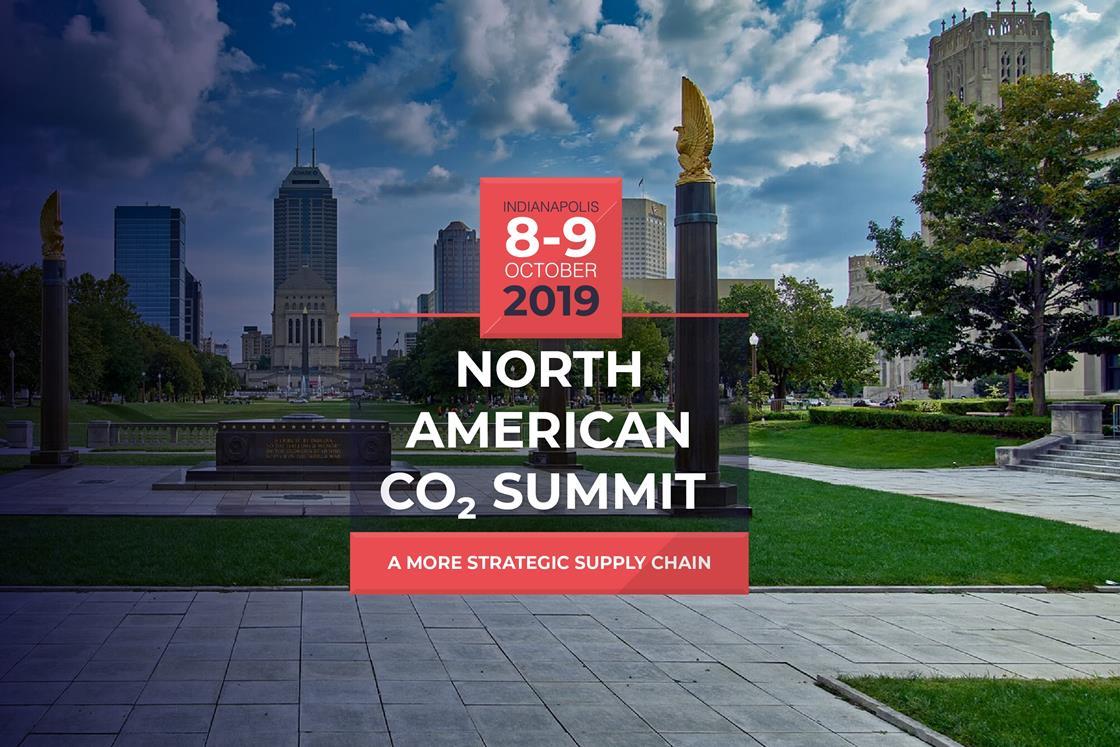 The North American CO2 Summit 2019 will provide a platform for much-needed discussion on future carbon dioxide (CO2) sourcing and supply routes, the need for which is arguably more pressing than ever before. Topics covered at the event will include supply dynamics, rampant applications growth and the drive for A More Strategic Supply Chain in the future.
A sold-out event of 156 delegates, from 14 different countries and 90 companies, will be present for solution-driven, inspirational keynote sessions from:
Rohit Thawani, Global Procurement Director at The Coca-Cola Company
Chris Ebeling, Executive Vice-President of Sales and Marketing, US Bulk, at Messer Americas
Sam A. Rushing, Advanced Cryogenics
Wally Brant, CEO at Indiana Oxygen
Miguel Wheelock, Owner at AOC Mexico S.A. de C.V.
Brett Henkel, Co-Founder & Vice-President, Strategic Accounts & Government Affairs at Inventys
Damian Beauchamp, Chief of Staff and Chemist at 8 Rivers/NET Power
Bob Haldrup, Senior Vice-President at Irving Materials, Inc.
Bob Knight, Applications Development Manager at Chart Industries
Zane Butler, Vice-President of Sales at TOMCO2 Systems
John Campbell, President of Intelligas Consulting
Maura Garvey, Principal and Director of Market Research at Intelligas Consulting
Dwight Garrels, Department Manager – Process and Mechanical Engineering, at Haskell
Gary Robson, Sure Purity and ISBT
The event begins today (8th October) with registration from 12pm and a first look at the exhibition area with 25 table-tops. This evening, delegates are invited to a welcome reception at 7pm. The Summit begins tomorrow (9th October) at 8.45am.
Summit
The summer of 2018 will be remembered for that carbon dioxide crisis in Europe and Mexico, but significant concerns remain in the US too where lower annual capacity growth is not keeping pace with voracious CO2 demand and a precariously tight balance exists – particularly during times of planned and unplanned plant outages and seasonal demand spikes and price increases.
Players need to strategically plan for future sources to alleviate tight supply and match future demand growth. At the same time, industry as a whole is in the spotlight to reduce its carbon footprint and has never been more conscious of its environmental responsibilities, giving added weight to cleaner alternative sourcing technologies such as Direct Air Capture (DAC) and CO2 recovery.
The Summit will also explore the new, the trending and the traditional applications which are driving such strong CO2 demand.
Topics for discussion and debate will include:
Investing in a more Strategic Supply Chain
Overview of the North American CO2 Business
CO2 Supply in Mexico
CO2 Capture from Solid Sorbent Structured Laminates
CO2 Sourcing from Natural Wells
Moving CO2 to Demand Hubs: Trucks & Transport
Food & Beverages and CO2
Carbonated Beverages: An End-User Perspective
Trends in Dry Ice Markets
CO2 Growth Markets
Super-critical CO2 and Zero-Emission Electricity Production
Concrete Potential: CO2 Uitlisation Technologies
The North American CO2 Summit will provide invaluable networking opportunities between gas suppliers, end-users and equipment innovators alike. Experts from a variety of companies will be on hand to speak on applications and production technologies – either during the Summit itself or via an exhibition programme that will include no less than 25 technology innovators and key players.
This event follows a successful gasworld CO2 Summit Austria in March (2019) to discuss the high-profile CO2 shortages of 2018 across Europe and the drive for alternative sourcing.
Follow the summit
Stay up-to-date with all the latest news, views and developments at the 2019 North American CO2 Summit via the gasworld website, updated throughout the event.
gasworld will also be tweeting live updates during the conference, which you can follow on Twitter using the hashtag #GWIndy19
A full review of the conference will be published in the forthcoming editions of both gasworld and gasworld (US) magazine.