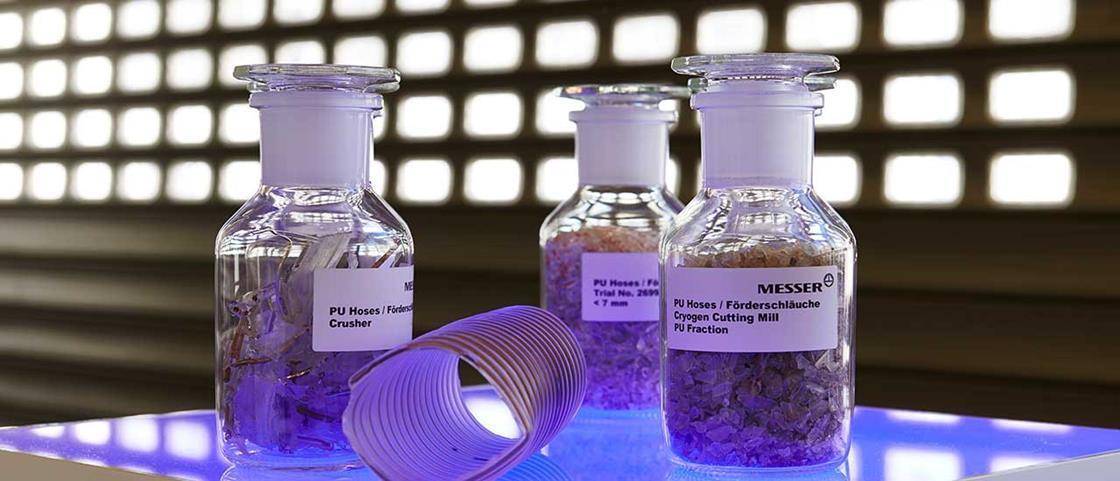 Its cryogenic processes use cryogenic gases, such as nitrogen and carbon dioxide to grind composite materials, plastics and foodstuffs, allowing them to be recycled.
Its process is aimed at thermoplastics, elastomers, waxes and paint additives, but it can also cleanly grind spices allowing them to keep their aroma and flavour due to the high temperatures involved.
The materials are cooled with liquid nitrogen and carbon dioxide making them brittle, so they result in a fine grain when ground. Messer produces sample batches at its cryogenic grinding and recycling technical centre, along with determining grinding parameters and estimating production costs.
The family run industrial gases specialist will demonstrate the advantages of liquid nitrogen and carbon dioxide for cold grinding and provide visitors with information about cryogenic equipment for product and mill cooling.
Held in Nuremberg from 9th to 11th April, Powtech is the world's leading trade fair for processing, analysis and handling of powder and bulk solids.
Oliver Dietrich, a cold grinding expert at Messer, said, "Cold grinding involves cooling and embrittling substances with cryogenic liquid nitrogen or carbon dioxide. This process allows particularly fine grain sizes and a high material throughput to be achieved. In addition, nitrogen and carbon dioxide create an inert atmosphere by displacing oxygen, thus providing a high level of protection against dust explosions."
Messer, which is the world's largest privately managed industrial gas manufacturer, is an international supplier of cryogenic gas applications for powder production, and operates its own cryogenic grinding and recycling technical centre near Krefeld, Germany.