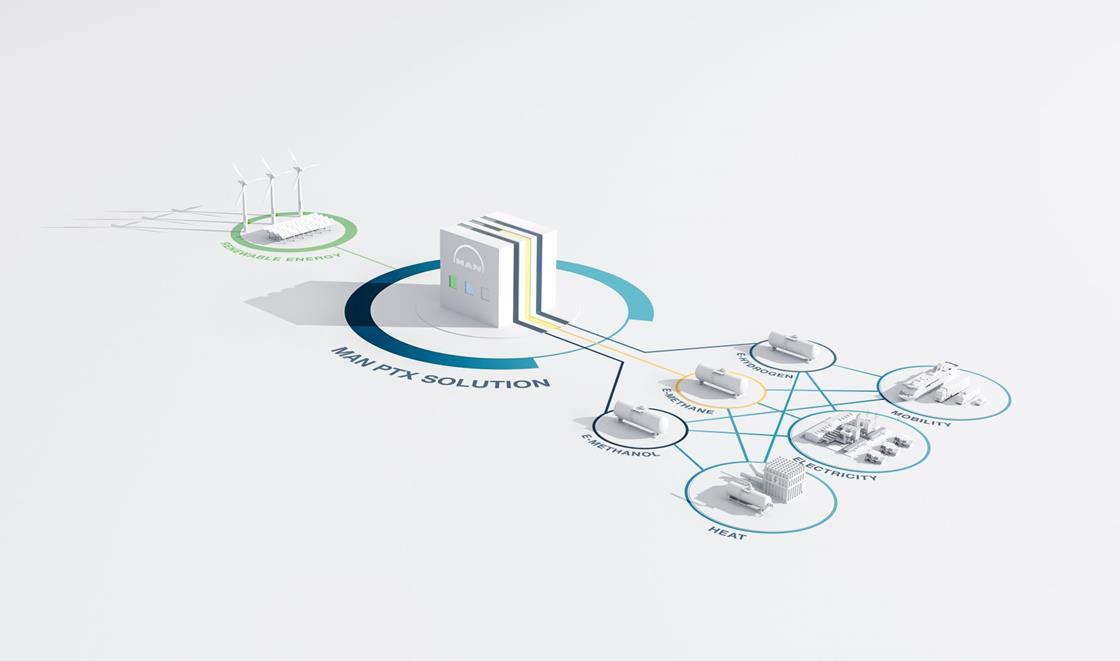 A contract confirming the partial acquisition was signed by Dr. Uwe Lauber, CEO of MAN Energy Solutions, and Ove Petersen and Heinrich Gärtner, Executive Managers of the GP Joule Group.
The contract also makes provisions for a majority or complete takeover of H-TEC Systems at a later date.
H-TEC Systems has more than 20 years' experience in the research and development of hydrogen technology. Across sites in Lübeck, Braak and Augsburg, the company develops and produces stacks and electrolysers for manufacturing hydrogen with electricity.
Since 2010, H-TEC Systems has been a subsidiary of GP Joule, a project developer specialising in renewable energies and sector coupling that retains around 60% of the remaining shares.
MAN Energy Solutions is receiving two seats on the newly established H-TEC advisory board. The management team, consisting of Heinrich Gärtner, Dr. Joachim Herrmann and Frank Zimmermann, will continue to manage the business operations.
"We view this partnership with H-TEC Systems as a strategic milestone and as our entry into the hydrogen economy," said Dr. Uwe Lauber.
"Hydrogen can be obtained from renewable energy sources in a climate-neutral fashion, and forms the basis for the production of a variety of synthetic fuels using power-to-X technology."
"These 'e-fuels', as they are known, are urgently required to bring about a change in energy policy, since they allow renewable energy sources to be used even outside of electricity grids."
"The production of hydrogen consequently constitutes an important interface in the coupling of the energy, transportation and heating sectors."
Source: MAN Energy Solutions
For many years, MAN Energy Solutions has been a leading supplier of methanation reactors and a pioneer of power-to-X technology that has come to offer plants on an industrial 50MW scale.
Besides H-TEC Systems, MAN is working together with other partners in the area of electrolysis. This collaboration will also continue into the future.
"At present, we see this commitment as a developmental partnership," said Lauber. "As the electrolysis market matures commercially, we estimate that it will become medium- or long-term in nature. By acquiring a stake in H-TEC Systems, we are positioning ourselves in this strategic future market at an early stage."
"The strategic partnership with MAN Energy Solutions provides the ideal conditions for the further development of our subsidiary H-TEC Systems," said Ove Petersen, CEO of GP Joule, explaining the reasons for choosing the new investor.
"For the purposes of not only maintaining our innovative strength, but also entering into series production and international distribution, we now have the long-standing expertise of an international corporation to build on."
"We also share the conviction of MAN Energy Solutions that strategies and technologies for the decarbonisation of industry and transportation will considerably determine the future development of the market. We are convinced that we will be able to develop and promote the energy system of the future together."
"H-TEC Systems will be able to continue to focus on developing and producing series production-ready technologies for converting electricity into hydrogen in a cost-efficient manner," added Heinrich Gärtner, co-founder and Chief Technology Officer of GP Joule. "In doing so, we will be able facilitate a rapid transition from fossil fuels to energy sources that are renewable and free of CO2."
Hydrogen Zone
From the Hydrogen Economy to the merchant refinery hydrogen market, for all the latest news, views and analysis of the global hydrogen business, visit and bookmark gasworld's dedicated Hydrogen Zone.
The Zone includes market reports and intelligence, interviews, profiles of who's-who in the hydrogen sector, and further reading items. Make sure you visit it today!