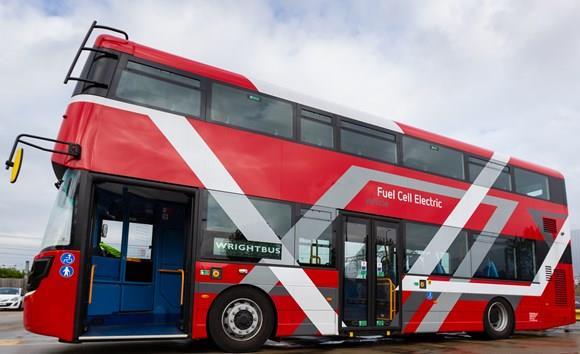 Transport for London (TfL) today revealed it was investing £12m ($15.7m) in 20 buses, to be manufactured by Wrightbus, and the fuelling infrastructure as part of its drive to make London's transport zero-emission.
It follows the introduction of the world's first Ultra Low Emission Zone last month.
To encourage the take-up of this trailblazing technology in other cites in the UK and Europe, TfL is leading procurement within the Joint Initiative for hydrogen Vehicles across Europe (JIVE) project, which is co-funded by the Fuel Cells and Hydrogen Joint Undertaking (FCH JU).
JIVE aims to bring down the cost of hydrogen buses by buying in bulk with other authorities, helping put the price per bus on a par with the other cleanest fuels.
Sadiq Khan, Mayor of London, said, "We all have a role to play in cleaning up London's toxic air and I've always said that TfL should lead from the front."
"Following the launch of the world-first Ultra Low Emission Zone last month I'm delighted that TfL has today signed a contract to bring 20 state-of-the-art, zero-emission hydrogen buses to London's streets."
"We are investing a record £85m in cleaning up our bus fleet, and I am proud that London now has the largest zero-emission bus fleet in Europe."
The double decker hydrogen buses will expand TfL's growing number of zero-emission buses. There are currently a total of 165 zero emission buses, with a further 68 electric double deckers on the roads by the summer.