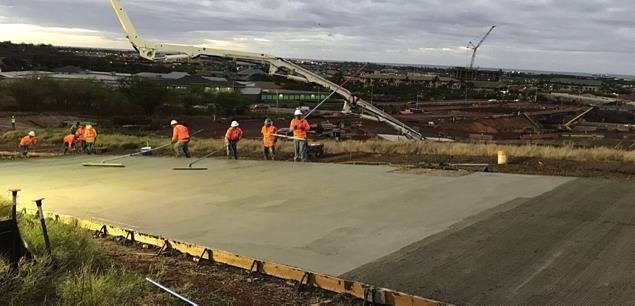 Made with CarbonCure Technology, which injects a precise dosage of carbon dioxide into ready mix concrete masonry products, resulting in the carbon dioxide being chemically converted into a mineral, HDOT hopes the test will reduce the carbon footprint of road construction.
"I am pleased to see HDOT moving ahead with CarbonCure, local concrete companies, and Hawaii Gas to reduce the levels of carbon dioxide emitted during the construction process," said Hawaiian Governor David Ige.
"As the daily baseline measurement for carbon dioxide in our atmosphere reaches the highest level in modern history, it is especially important for all of us to do all we can towards ensuring a sustainable Hawaii for future generations."
The carbon-injected concrete used in the testing was produced by Island Ready-Mix Concrete using waste carbon dioxide captured from Hawaii Gas, and distributed by Matheson Gas.
The HDOT demonstration project comes on the heels of an adopted resolution by Honolulu City Council that "requests the city administration to consider using carbon dioxide mineralisation concrete for all future city infrastructure projects utilising concrete."