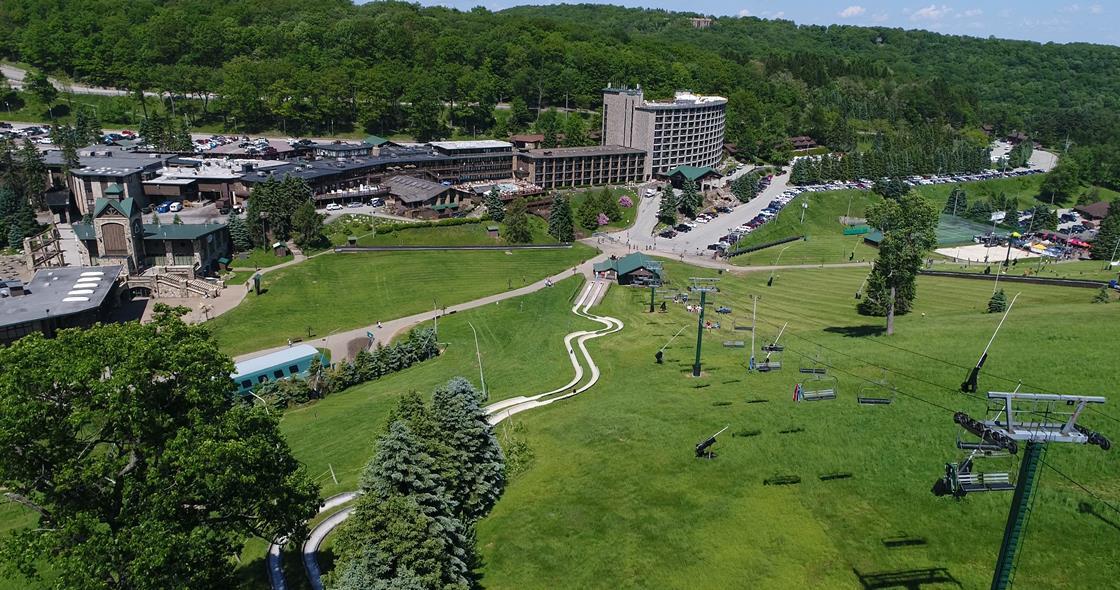 Every year GAWDA holds several regional meetings across the US in Seven Springs, Northwest, Northeast and Central, as well as its Spring Management Conference and Annual Convention.
gasworld joined more than 280 attendees at the Seven Springs Mountain Resort, a destination renowned for its sporting clays, mountain top golf course and stunning beauty, for three days of business education and networking.
The first day (Monday 17th June) saw a networking lunch at the Matterhorn Lounge followed by an afternoon of sporting clays and a BBQ in the evening at the Foggy Goggle.
The following morning (Tuesday 18th June) , attendees were up bright and early for the reverse contact booth programme, a brand-new item to the agenda this year, which involved distributor companies having a table top and supplier attendees walking the floor.
Companies who had a booth included: Airgas, Indiana Oxygen, Roberts Oxygen, Butler Gas and Praxair.
Next, attendees heard keynote presentations from three high profile figures in the US gases business as part of this year's business session.
GAWDA's Vice-President Abydee Butler Moore opened the business session and welcomed attendees to Seven Springs.
"Good morning everyone and welcome to Seven Springs. We have a record 280 people in attendance and I am honoured to be chairing this meeting," she said.
Butler Moore, also President of Butler Gas, said, "Thank you to our fellow distributors for our first ever reverse contact booth. The feedback has been positive and it is something we will be continuing year after year at the GAWDA Seven Springs event."
She also thanked the other sponsors who included ITW for Monday's networking welcome lunch, CryoVation and SafTCart for the BBQ and drinks last night, and Messer for this morning's breakfast.
The first talk of the day came from Marie Ffolkes, President of Americas at Air Products. Under the title 'Footsteps to Navigate & Break Through: in the world of giants', Ffolkes discussed her journey from growing up in Jamaica to where she is today at Air Products.
"I'm very honoured to be here with such a great crowd. You all look bright and happy after a long night at the bar, and this is the kind of crowd I like to hang out with," she said.
"I jumped at the chance to speak and be here with some our customers today because customers besides safety is the next priority for me."
"I wanted to share with you a little about my background and my journey in getting to this position and level."
"The title is aptly named because I have worked for four companies in my 27 years of business, but I have worked with some amazing people and for some amazing people and I'd just like to share with you all my journey."
Ffolkes told GAWDA members Air Products is now the only American industrial gas company following the merger of Praxair and Linde.
"I want to give you a little flavour of what I manage within the company. I manage all of the Americas – Canada, US, Latin America and Mexico – which accounts for 45% of the entire Air Products company."
"That includes over 271 facilities, over 900 drivers and over 6,00 individuals."
"I wake up every morning thinking how can I make their jobs better? How can I take issues out of their way? How can I make them successful?"
Ffolkes then emphasised Air Products' focus on safety: "We have over 170,000 customers, and this is really critical for us, this is a top priority for us besides safety being number one."
"Air Products' goal is to be the safest, most diverse and most profitable industrial gas company in the world. We start every meeting with safety, we focus on safety."
Source: Seven Springs Mountain Resort
Ffolkes then shared with GAWDA members a number of bosses, teachers and mentors who had positively impacted her career, including Air Products Chairman, President and CEO Seifi Ghasemi.
Speaking about Ghasemi, Ffolkes said, "He has taught me how to make sure how everyone matters, no matter how up or down they are in the chain."
"If I email him, he will reply within 15 minutes no matter where he is in the world – it could even be three in the morning."
"What I have learnt from him I always try to share with my team."
Ffolkes talked about her global journey and all the different countries she has lived and worked in, including the US, Europe, China, Japan, Korea and Brazil.
She also stressed the importance of adaptability in an ever-changing industry.
"I have learnt for success you have to be adaptable, especially in this market where everything changes so quickly. We're in an era where adaptability is one of the most important qualities in employees at every level."
Ffolkes also highlighted one ongoing challenge for businesses – recruiting, cultivating and retaining a skilled workforce.
Concluding her presentation, she left GAWDA members with the following thoughts: "Don't spend all your time working and pushing for your goal that you're not having fun. Have faith in what you do."
Next up, Chris Ebeling, Messer's Executive Vice-President of Sales and Marketing, North America, discussed his background in sales and marketing and what he has learnt from it.
He began his presentation by talking about three of his early influences – Star Wars character C-3PO, the closing of a car sale he witnessed as a young child and how to present yourself at a dinner party.
"My agenda today is five different things, customer, people, product, pricing and offer, and all these things add up to C, three P's and O – C-3PO.
Under each heading, Ebeling shared multiple stories about experiences with customers throughout his time in the industry.
"I truly believe that our people are our biggest asset. Each person is different. How do you recognise someone strengths? One of the things I find so interesting is as soon as you gravitate towards something you are good at you want to do more of it."
"Everyone is always telling you about your strengths, but in reality, in business, if you don't look at the things, you're not so good at it will hold you back."
Wrapping up the business session, Anne Brant Hayes, Vice-President and Corporate Counsel of Indiana Oxygen, gave the final presentation.
"Being the only thing that stands between you guys and lunch, I want to make what I have to say worthwhile," she joked.
"A little bit of background on Indiana Oxygen – we are 104 years old and we have 12 locations in Indiana and Ohio."
Brant Hayes discussed her early career working within law and how she got back to working with her family's company Indiana Oxygen through her law career.
Indiana Oxygen was founded in 1915 by two brothers Walter, Brant Hayes' grandfather, and John Brant. Today the company is run by Walter's son and Brant Hayes' father Jay Brant.
Brant Hayes gave GAWDA members some advice on contracts, warranties, human resources, workplace investigations, hiring and firing, and severance agreements. 
Butler Moore then returned to the stage and closed the business session by giving members a reminder of upcoming GAWDA events:
Skamania Lodge, Stevenson, WA – 17th-19th July (2019)
Lake of Isles/Foxwoods, N. Stonington, CT – 6th-7th August (2019)
Eagles Crest, Marriott Resort, Ypsilanti, MI 19th-20th August (2019)
After enjoying a networking lunch, attendees boarded the shuttle to the mountain top golf course for the remainder of the afternoon.
Later in the evening the Rosenthal family of Economy Welding hosted an evening reception at their private club – a favoured GAWDA Seven Springs tradition. Attendees experienced a festive evening of home cooking and live music.
 Yesterday morning (Wednesday 19th June), GAWDA consultant Mike Dodd delivered a half-day workshop on DOT compliance.
A full review of the GAWDA Seven Springs 2018 Regional Meeting will be available in the upcoming August 2018 US edition of gasworld magazine.