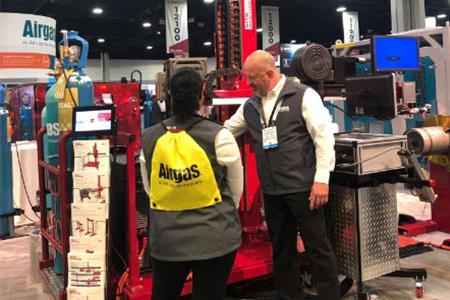 Returning to Chicago, the tradeshow will run between 11th-14th November (2019) at McCormick Place, Chicago, with an estimated 48,000 attendees.
FABTECH 2019 returns to Chicago
At the event, customers will have the opportunity to review Airgas' newest welding, industrial gas and safety products first-hand with Airgas' onsite Advanced Fabrication Technologies team. 
"Our slate of innovations and services on display at FABTECH 2019 show the collaborative power within Air Liquide, Airgas and Red-D-Arc to innovate alongside our suppliers and provide solutions to customer challenges," said Eric Klein, Vice-President of Business Development, Industrial Markets and Advanced Fabrication.
New technologies, products and services on show at FABTECH this year include:
The BotX Welder cobot system from Red-D-Arc, Airgas, Air Liquide and Hirebotics which automates the welding process and increases the size of a workforce on demand without capital investment. 
A trio of Machitech™ plasma cutting tables, including the BeamCut™, a 6-axis robotic CNC cell using high-definition plasma technology that can automate structural fabrication, eliminate manual layout work, and increase productivity by 80%.
The ARCAL™ line of welding gases by Airgas, which includes five ready-to-weld gases for daily needs that exceed AWS A-5.32 and ISO 14175 requirements. The ARCAL gas cylinders are equipped with SMARTOP™ and EXELTOP™ valves to have improve productivity, reduce operating costs and create a safer work environment. 
"Our customers are facing increasing demands to perform consistently, drive down costs and adapt to rapidly transforming technology," said Rob Tessier, National Director of Advanced Fabrication Technologies.
"In addition to the impressive technology on display, our Advanced Fabrication team can lend their expertise to help customers remain competitive during these complex times."