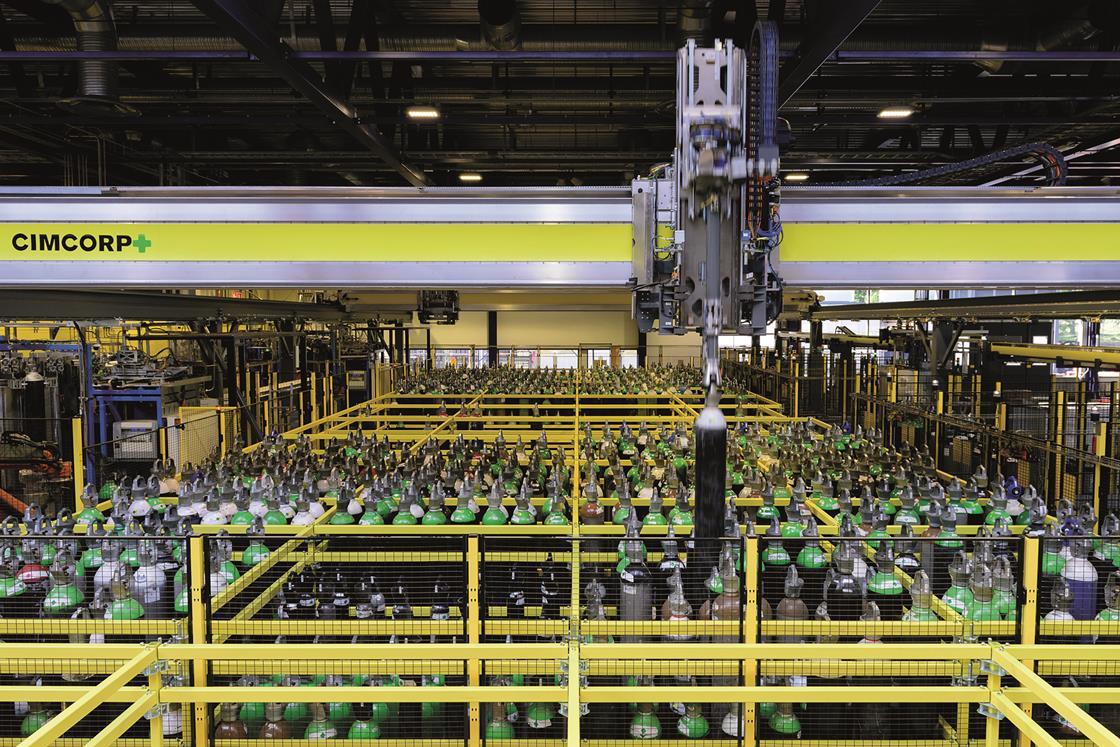 The company has celebrated many successful milestones in recent years, including inaugurating the world's largest fully automated filling station for industrial gases in 2016, and this year AGA is gearing up to open a new top modern site in Sweden with its level of automation a first-of-its-kind in Europe.
At the helm of this is CEO Dr. Andreas Opfermann, who has been with Linde for nearly 15 years and is well known within the industrial gases industry.
AGA: From industrial innovator to industrial gas leader
In part two of an exclusive three-part series, Opfermann discusses two concrete examples of digitisation/automation – AGA's filling plant in Riihimäki, Finland and its brand new, unique fully automated facility in Enköping, Sweden.
Automation pioneer
In 1995 in the town of Riihimäki, southern Finland, AGA built the first automated filling site. But this was never scaled in the industry, AGA was somewhat ahead of its time.
"This site was actually meant as a test site and AGA built up an automation which looks totally different from today, but at the time it was essentially cutting-edge. AGA never scaled it because investment costs with the technology at the time were too high to do it anywhere else," Opfermann explains.
"The purpose with these automated sites is to both increase efficiency and safety. It's so clean you could eat from the floor…"
Fast forward 20 years and under an €8.5m ($9.5m) investment, the company completely renewed and modernised its operations in the Riihimäki filling site again, this time with the latest in robotic technology, responsible for all stages of filling and handling of the cylinders, to become the world's first fully automated filling station for industrial gases.
AGA invests in cylinder filling automation
The plant produces more than 200 gas mixtures and more than 700,000 cylinders per year. Its cornerstone feature is the automated carousel filling equipment.
"The purpose with these automated sites is to both increase efficiency and safety. If you enter this plant today you can hear it, you can see it and you can feel it. It's silent, it's beautiful for an engineer to look at and it's clean. It's so clean you could eat from the floor. I mean I wouldn't eat from the floor, but it's close to it," Opfermann says.
"This was a first-of-a-kind not only within the Linde network but also in the world."
"So why did we do this? Well firstly we are cutting all kinds of heavy lifting and handling operations which are not good for people's health and safety."
"Secondly, it's an efficiency measure. It pays back its investment because it's more efficient and you have a better predictability of output and therefore customer benefit."
"Robots, automated vehicles and 3D cameras, all these cutting-edge features take away the most physically strenuous and hazardous work and increase our reliability and production efficiency. It's a game-changer with measurable benefits for our customers, our employees and our company. It really is a win-win-win. It's a new way of operating your plant and digitisation is at the core of it."
"This time, the cost we have invested here will be scaled into other sites and we can see that already outside of AGA. Some of our sister companies in Europe and Australia are already copying it."
Entirely automated
This year, AGA opens the next step in its automation – a brand new modern filling plant in Enköping, Sweden, where the entire process is fully automated.
Picture self-propelled trucks set gas cylinders in locks where they are automatically sorted according to the desired filling and receiver. A robot lifts the bottles into the filling carousel and then back out and into the lock where they are picked back up by the self-propelled trucks.
"For the first time the entire production flow is automated from sorting to filling, storing and picking. The only thing people do besides keep the whole system running is the loading and unloading of the trucks," Opfermann explains.
"With this facility, we talk about a €40m investment ($45.5m) and the consolidation of six sites into one with 1.8 million cylinder fillings a year. This is one of the biggest sites in Europe that I know of."
Plants in Gävle, Rotebro, Växjö, Köping and Svedala will be phased out by the end of 2019 and operations moved to the Enköping site.
"It's a game changer for delivery capability, ergonomics and safety, it's a game-changer for AGA and it will be a game-changer for the new Linde plc," Opfermann says.
With all this, the operation becomes even more measurable and data driven.
Opfermann continues, "Before you steered a filling plant on rather aggregated key performance indicators (KPIs) like costs, safety and delivery precision. Suddenly, you have a huge number of parameters you can trace, optimise and predict. This is the next step where automation, data and people come together."
"I think one aspect that is sometimes a little bit overlooked when we talk about technical innovation is people. Our traditional process required a lot of blue-collar workers, a plant manager and maybe one controller."
"If you look at that model now, it's much more engineer resources, it's much more data driven and much more system based than only handling based. Sure we still have some handling tasks, but today's mix is totally different and therefore we need to hire new people with new capabilities."
"For the first time we also have a blue-collar operating mix where we have a significant share of women. Typically, with heavy lifting and operating jobs you wouldn't find many women on the plant floor. A good gender mix is one of the effects of these new, automated plants that we really appreciate."
These automated plants are not the only significant milestones AGA has achieved in the last few years related to digitisation. Next Friday (22nd February), in the third and final part of this exclusive three-part series with AGA, Opfermann will discuss the new digital solutions the company has implemented for its customers – an area Opfermann sees "even bigger potential in the long run".