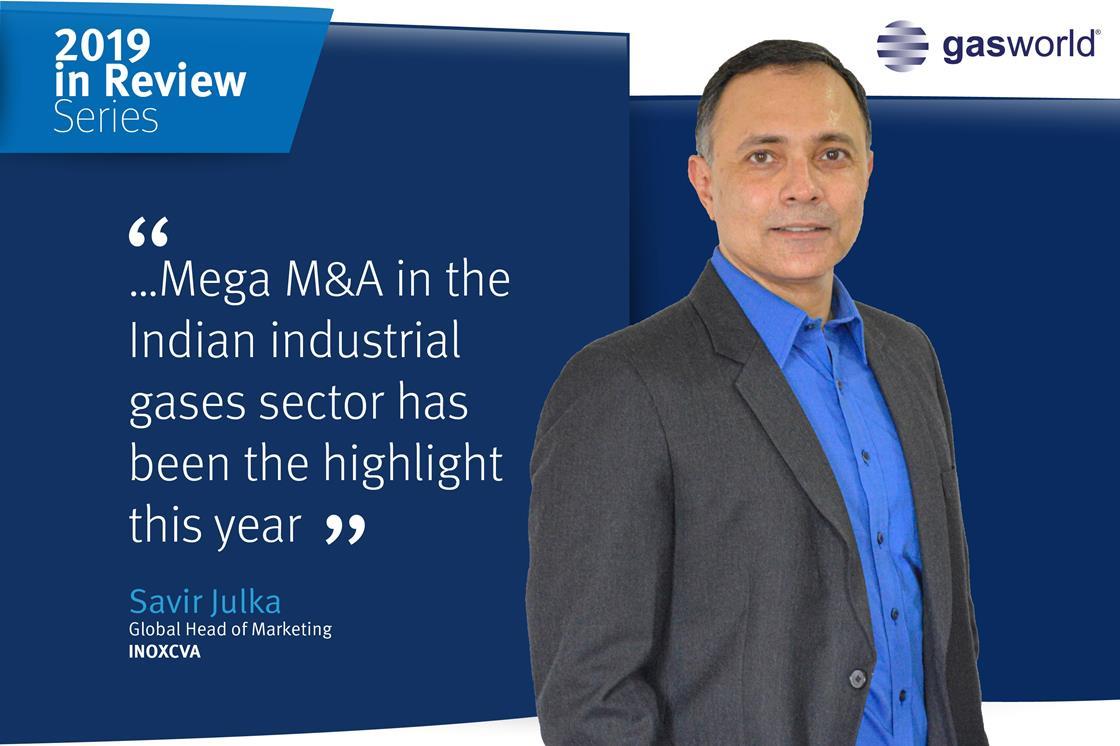 Today we hear from leading global cryogenic engineering company INOXCVA, who is the official bronze sponsor of gasworld's Middle East and North Africa (MENA) conference, currently underway in Dubai. 
The company is also exhibiting at the event and can be found at booth 10 in the Al Joud Ballroom B, C at the Hilton Al Habtoor City Hotel.
Part of the INOX Group, INOXCVA is focused on cryogenic insulation technology equipment and systems. The company offers state-of-the-art designed mobile and permanent LNG fuelling equipment, LNG bulk storage, LNG gasification equipment and LNG transport trailers.
Since its inception, INOX Group, has consistently expanded its business operations in industrial gases, refrigerants, chemicals, cryogenic engineering, renewable energy and entertainment.
In a short span, INOXCVA is one of India's most respected and fastest-growing business groups.
Here, Savir Julka, Global Head of Marketing (Industrial Gas), summarises INOXCVA's 2019 highlights, what future he sees for the gases market in India and what he thinks is the most exciting application or growth driver for industrial gases in India.
Gasworld (GW): Which sectors do you see as being strong for INOXCVA's products next year?
Savir Julka (SJ): Industrial gas continues to lead in business verticals, followed by cryo-scientific, LNG and cryo-bio segments, that have been strong as well.
Opportunities in LNG marine fuel tanks and land based receiving terminals have been a highlight. We expect this trend to continue next year.
GW: Tell us about three highlights from 2019 for INOXCVA?
SJ: For INOXCVA 2019 has few interesting highlights:
Successful completion of two 570m3 and two 300m3 tanks for liquid nitrogen and liquid oxygen service in UK-Europe
Launch of light weight 20m3 IMO7 tank container
Successful completion of gaseous hydrogen cooler for ISRO
Successful completion of two 1000m3 LNG Storage tanks in UK-Europe
First LNG dispensing station in India commissioned at Dahej
GW: What future do you see for the gases market in India?
SJ: Mega M&A in the Indian industrial gases sector has been the highlight this year and interesting fresh investment in Liquid Capacity.
So the industrial gases segment should continue to be dynamic and exciting and expect sustained growth in 2020.
GW: What's the most exciting application or growth driver for industrial gases in India going forward, in your view?
SJ: Steel, glass and oil and gas are applications that consume maximum gases. Steel continues to be strong.
Sectors like automobile and chemicals see movement from China and Southeast Asia to India. The pharma sector is getting even more globalised.
Going forward to the mid-2020s, we see Mobile PCB as new sector. A big chunk of Apple, Samsung, and BBK Electronics (Oppo, Vivo, One plus) Xiaomi supply chain is now India based.
GW: Finally, if you had one thing on your bucket list for the gases industry, what would it be and why?
SJ: Global standardisation, quality and HSE compliances across the industry, not just the major players. High-pressure gas equipment replaced by cryogenic liquid applications.
The 2019 in Review Series continues tomorrow with Fabian Van Damme, Director of Dohmeyer.