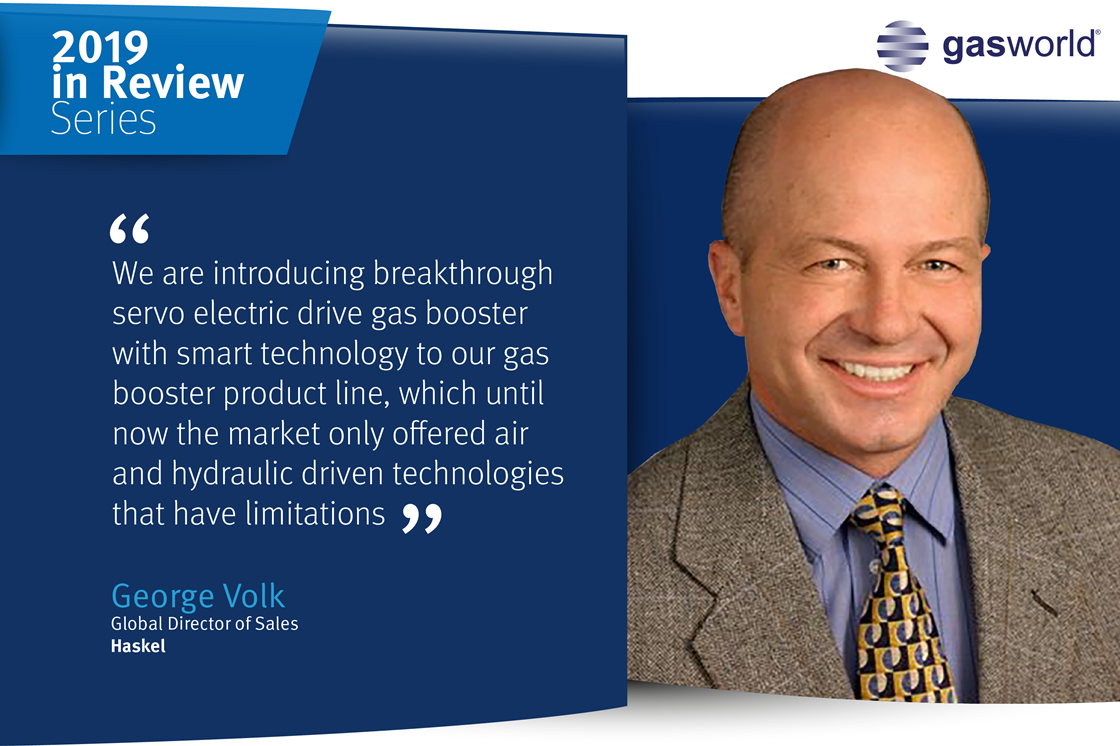 FasTest teased what new "revolutionary" products it will bring to market in 2020, Worthington said its big story of 2019 was how it focused and strengthened its sense of purpose and HVM highlighted what an important year 2019 had been for the company.
In today's penultimate 2019 in Review, we hear from gas transfer and compression solutions manufacturer Haskel and its Global Director of Sales, George Volk.
In 1954, the Californian company was a pioneer in the development of the first dry running hydraulically driven gas booster that did not require lubrication for the compressor. This new technology was (and still is) used extensively in missile and rocket technology, charging the missiles with inert gases to pressures as high as 10,000 psi.
Today, Haskel manufactures pneumatic and hydraulically driven gas boosters that can provide pressures up to 39,000 psi. These boosters can increase the pressures for a variety of gases, as well as refrigerants and other liquefied gases.
To help control, contain and store these high-pressure gases, Haskel also manufactures the BuTech line of high pressure valves, fittings and tubing that are rated to 60,000 psi and higher, with ratings for hydrogen up to 30,000 psi.
Haskel gas boosters can handle common and exotic gases and are ideal for high-pressure gas transfer, cylinder charging and scavenging.
Haskel's range of gas handling equipment offers a flexible and efficient source for delivering high-pressure gases and is successfully used by major industrial gas companies throughout the world.
With more than 70 years of gas handling experience, Haskel continues to invest in technology to ensure that the company continues to be at the leading edge in the industry.
Haskel's latest endeavours include the introduction of new and unique gas transfer and compression technology. The company has also formed a new group dedicated entirely to providing turnkey hydrogen refuelling stations.
Two years ago, Haskel introduced a new generation of hydraulic driven gas boosters, which have been successfully adopted in hydrogen refuelling station applications.
Gasworld (GW): As 2019 comes to a close, tell us about three highlights from the past 12 months?
George Volk (GV):
Acquisition by Ingersoll Rand, a publicly held industrial manufacturer, who is investing in growth with a strong focus on R&D.
Sales of H Drive Hydraulic Driven Gas Boosters in H2 refuelling stations.
Growth in CO2 Supercritical Extractions market for gas boosters and pumps.
GW: We understand you may have some big news to share with us soon around gas booster technology, could you tell us about that?
GV: We are introducing break through servo electric drive gas booster with smart technology to our gas booster product line, which until now the market only offered air and hydraulic driven technologies that have limitations.
This drive will open up in markets and opportunities.
GW: What will be the big applications for this technology, and what challenges could it solve?
GV: The new product will offer reliable, quiet, clean, efficient, smart, self-diagnostic drive technology making it perfect for the lab production environments such as those found in the pharma industry where botanical extraction is applied and the semiconductor industry where unique gases are used. 
Existing applications will be broadened by higher flow rates that are impractical to be satisfied by air driven product. It will provides higher flow rates without a heavy draw on existing resources, such as compressed air.
GW: Where will the focus be for Haskel in 2020?
GV: Launching our new gas transfer and compression technology. When lends to us growing our gas booster business with particular emphasis on supercritical CO2 extraction, and industrial gases.
GW: With the new Haskel technology and CO2 as a big application for this, will the CO2 business be a big market for Haskel in the year ahead?
GV: Absolutely! Actually, Haskel air driven pumps and gas boosters have always been a player in CO2 for extraction or foaming, with the Q Drive we hope to expand our market share because of the capacities and efficiencies of electric drive and the increase in volume will result being able to satisfy more applications.
GW: Finally, if you had one thing on your bucket list for the gases industry, what would it be and why?
GV: Spreading awareness about the important of safety when handling Oxygen. There are no Industry wide "standards" regarding cleanliness, which is critical to safety.
There are many companies selling "oxygen cleaned" products that "short cut the cleaning process", which is dangerous. We want the industry to adopt standards.
Many companies do not clean their products in accordance to any standard and they do not use a clean room.
The 2019 in Review Series continues tomorrow with Jacques-Olivier Mugler, Sales & Marketing Director of Fives Cryomec, which will be the final article.